Local access
The conference will take place in ISC-PIF:

Institut des Systèmes Complexes, Paris Ile-de-France, 113 rue Nationale Paris 13

ISC-PIF is a unit of the National Center for Scientific Research (UPS3611), one of the largest french research organisation, and is in partnership with more than a dozen of Universities and other french research organisations, as well as with the city of Paris and Ile-de-France Region.This latter has given ISC-PIF the label of major research area since 2006 (Domaine d'Intérêt Majeur).
Interface between disciplines, but also between research organizations and higher education, the Complex Systems Institute of Paris Ile-de-France (ISC-PIF) is a place dedicated to the development of innovative and interdisciplinary research on complex systems at the crossroad between high performance computing and big data. It catalyzes, since 2005, the emergence of common and interdisciplinary practices, facilitating access to skills, work areas and pooled research resources. The residents of ISC-PIF, who are staff and student employed by the institute or by a partner institution, work on projects that are hosted onsite. They are the first contributors to the activities and dynamism of ISC-PIF.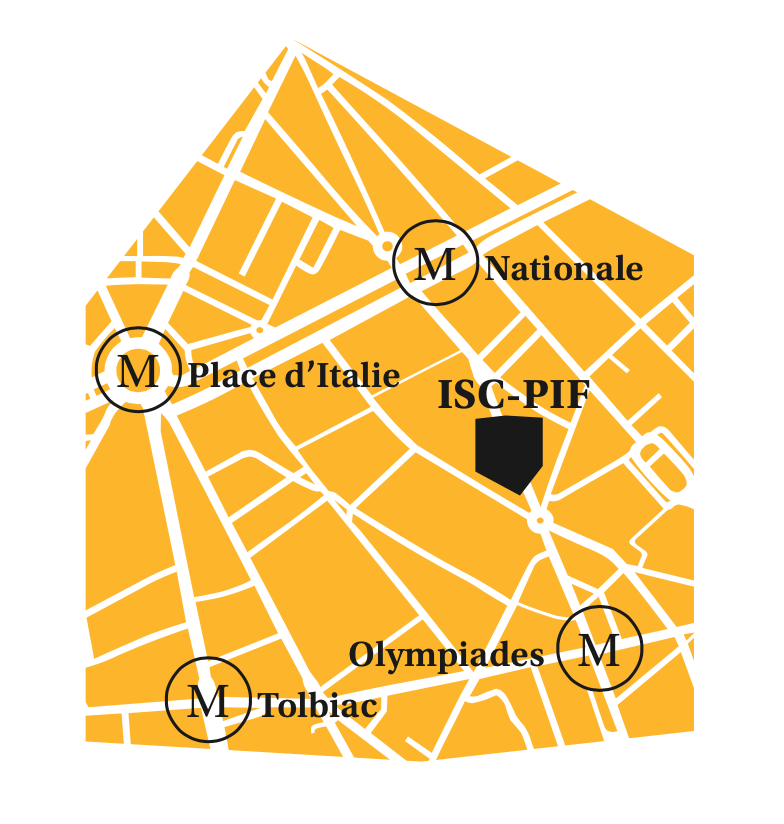 *** ISC-PIF website ***
Venue
Access to the conference:
Institut des Systèmes Complexes Paris Île-de-France
113 rue Nationale
75013, Paris
Intercom : "isc-accueil"
A wifi connexion is available on site.

Closest Metro stations:
line 14 Olympiades
line 6 Nationale
line 7 Tolbiac
line 5 Place d'Italie

From Montparnasse train station:
Metro 6 to Nationale

From Roissy Charles de Gaulle airport, two options:
1) RER B to Luxembourg + bus 27 to Clisson
2) RER B to Châtelet + Metro 14 to Olympiades

https://www.vianavigo.com/accueil
Map and Hotels